Maniac In Training
Training Plan Provided by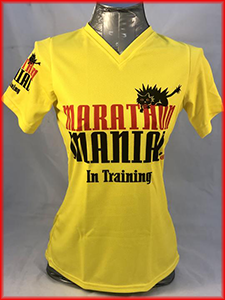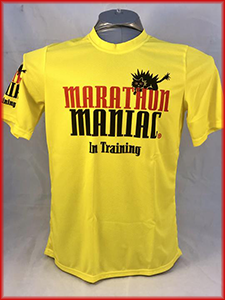 Want encouragement on your journey to becoming a Maniac?
Women's and Men's In Training Tees are available! Click on the photo to get yours today!
HOW TO QUALIFY
Can you run 3 marathons in 90 days?  Join the 15,000+ runners who already have! Training tips to stay healthy and have fun

USE THE FREE TRAINING PLANS BELOW
3 marathons in 90 days is a big challenge. By sticking with a plan you can ensure you stay on track for your training and avoid overtraining. 
Beginner plan >> HERE  /  3 IN 90 DAYS PLAN >> HERE

The plans were developed by a team of RRCA, USATF, and VDOT certified coaches who have years of experience working with back-to-back marathoners.

PLAN AHEAD
Finding 3 marathons in 90 days within your travel budget can be a challenge itself. The coaches recommend spreading the 3 marathons out by 5-6 weeks each to allow for optimal recovery between.

Spring Season (Mar-Jun) or Fall Season (Sep-Dec) will have the most opportunity for marathons to select from if you are located in the USA. Winter and summer have less selection of races to pick from.

TRAIN SMART & START WHERE YOU ARE 
Do NOT increase your mileage by more than 10% per week
Find the appropriate training pace using VDOT
Give yourself a cutback week every 2-4 weeks with no workouts or runs over 90 min
REST is apart of the program You do NOT need to run many long runs in-between marathons (trust us).

FORGET ABOUT SETTING TIME GOALS
Many athletes are motivated by setting "personal records" based on time goals. When you are training to qualify for the Marathon Maniacs, you are training for a different 'personal record' of running 3 marathons in 90 days. When an athlete runs a marathon at 'max effort', it can takes months to recover from. We want to focus on your goal of completing 3 marathons in 90 days, so we will NOT be racing these marathons for aggressive time goals. We recommend running at least 2 of the marathons at your 'easy pace'.

BECOME A RECOVERY EXPERT
To train hard, we must recover hard. Recovery is the most important factor of this challenge. You will be in marathon shape, but if your body is not able to recovery, you may not make it through the challenge. Staying healthy is key.


Sleep 8+ hours per night
NEVER run through pain/injury
See a doctor right away if you feel any injury
Take rest days & add in extra rest days if needed
Go very easy on your easy runs
Focus on nutrition & staying hydrated
Foam roll, strength train, stretch
Massage, compressions, ice, etc.

HAVE FUN WITH IT
Running is something you ENJOY! Remember it normal if you miss a day of training. One day or even one week is not going to make or break your training. This is your hobby. It doesn't have to be prefect. All runners have hard days. Goals are fun to keep us motivated. Running is a great way to live life to the fullest. Remember why you started and find joy in the little things each day!

FIND A GROUP/COMMUNITY
The Marathon Maniacs are an amazing group with 15k members around the world of runners!

Running is all about community. If you are ever lacking motivation, try volunteering at a local race or group run water stop. Giving back to the running community is a great way to remember why you started.

LISTEN TO YOUR BODY!
Running is a high impact sport and injuries can happen if we are not careful. When we listen to our bodies, we will be able to catch signals of illness or injury before they cause a setback.


Always rest if you are in question "should I run through this or not?"
See a PT (Physical Therapist) or ART (Active Release Therapist) as needed
Do not run through pain, illness or injury.

Beginner plan >> HERE

3 IN 90 DAYS PLAN >> HERE



Customized Training Starting At
$75/month (Maniac member discount)
$95/month (non-members)