Spotlight Races
Spotlight Races are races that are offering special incentives and perks exclusively for our Maniac and Fanatic members. We encourage all our members to attend these races.
Thank you to all the race directors for these special offers.
Two Rivers Marathon Race Festival
March 26th and 27th 2022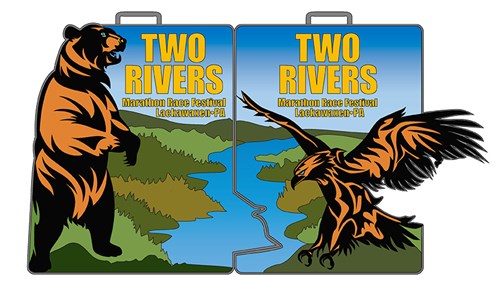 Maniacs and Fanatics are being welcome with open arms for the 10th Anniversary Two Rivers Marathon Race Festival, to be held March 26-27, 2022 in beautiful Lackawaxen PA, along the Delaware and Lackawaxen Rivers.
Offering 4 events on both Saturday and Sunday: a marathon, half marathon, 10k and 5k.
Great opportunity to get a double in without all the travel.
What members get!
--a full jacket embroidered with the event artwork, as well as the Maniac or Fanatic embroidered into the artwork
--a 4" finisher's medal. If you race both days, you'll get two medals and they interlock!
--a pair of socks with the event artwork and Club name on the socks. The socks will be mailed to you within a month of registration.
--if you are among the first 100 to register, you'll receive a Zulu Audio wearable bluetooth speaker system https://www.amazon.com/Zulu-Audio-Wearable-Bluetooth-Speakers/dp/B076DS4YWH
--an "I Did the Double" race shirt if you race both days
--an I Qualified For Boston shirt if you post a BQ time
--an Hawaiian lei at the finish line (fun, but not real flowers!)
--a bell to ring at the finish line to celebrate your achievement!
--Maniac and Fanatic VIP tent and portapotties only for use by club members
--Plenty of delicious post race food!!
You can see the beautiful, extraordinary apparel here: www.tworiversmarathon.com   
Online registration https://raceroster.com/events/2022/40160/two-rivers-marathon-race-festival
Offered because WE LOVE THE MANIACS AND FANATICS. 
The events were created with Maniacs and Fanatics in mind. Now you'll get the opportunity to enjoy the beautiful course with 1500 of your closest Maniac and Fanatic friends.
Discount code listed on the race calendars.
Hope you can all come out for this great event!