Virtual Run
Welcome to the Virtual Maniac Challenge!
Series 3 - Begins June 27, 28 - 2020 Register Below!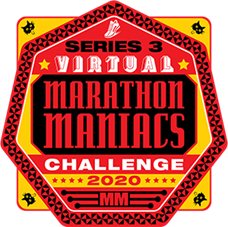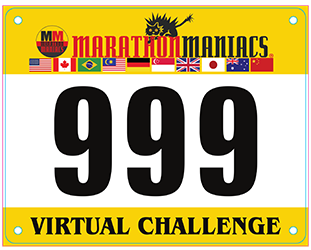 These races do NOT count towards Marathon Maniacs or Half Fanatics statistics. This challenge is to give us all a little challenge while races are banned because of the Covid-19 pandemic. You can add these races to your race page on your Maniac race lists if you are a member, however you will need to click the "NOT COUNTABLE" button as Virtual Runs do Not count towards Lifetime totals or to Level Up within the club.

Series 1 FULL RESULTS >> HERE << ~ Series 2 FULL RESULTS >> HERE <<

Marathon Maniacs Virtual Challenge!

How it will work! You must complete 3 of the 4 weekend virtual races, you must register by the second race to be eligible, that will be July 4 at 11:59 PM.

Everyone finishing the 3 of 4 Virtual races receives a custom diecast medal & neck ribbon.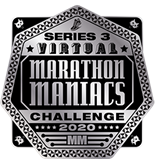 Actual Diecast Medal Design.

The first race is the weekend of June 27th, July 4th, July 11th, July 18th. You must run 3 out of 4 races. You can run either Saturday or Sunday of each race weekend. One per weekend.

Once you register for the event a Virtual Madness account will be created for you and a emailed login and password to upload your results.

The results field will be activated that weekend of the race date for you to submit your results and gps link, you will have until the following Tuesday at 11:59 PM to submit your weekend results. The results field will not be available after that time, results will be posted on the leaderboard instantly.

Race Weekends Below:
June 27, 28
July 4, 5
July 11, 12
July 18, 19

Date Increase                  Price
06/08/2020                    $50.00
06/20/2020                    $55.00
06/27/2020                    $60.00
07/02,03,04/2020          $65.00 Last Gasp Registration





1. Medal & Neck Ribbon Shipping Included.

2. Downloadable Bib will be emailed to you.

3. Race Results posted to the website leaderboard instantly once you login on your Virtual Madness Account.

Medals will be mailed out 3 weeks after the event.

Results Hosted by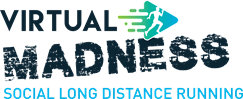 Questions? Email us at info@marathonmaniacs.com

----------------------------------------------------------------------------------------------------